Brent Anderson: Self-Advocate Entrepreneur. Inspirational Speaker, Humor Aficionado
I educate people using personal experiences and humor so they understand communication challenges and can overcome them.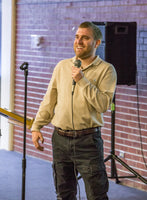 Unintentional Humor Presentation
My presentations are interactive, educational, and entertaining. Those who have seen them are inspired and hopeful and also have a good laugh, too. My positive message shows that regardless of differences, anyone can connect through the universal human bond - Humor.
Book Me As A Speaker
Unintentional Humor Products
Testimonials
Brent's presentation was fun and engaging, but also poignant and thought provoking. Months later we are still receiving rave reviews from our donors and sponsors and we could not be happier with the response. Long time supporters of our organization were blown away and have requested that we bring back Unintentional Humor as soon as we can!

Jen Fetter, Children's TLC, Kansas City
Brent's presentation was absolutely amazing! It was so valuable for us as future speech-language pathologists to be able to hear his story.

Abbie Dario, Greeley CO
This was definitely my favorite breakout session of this conference; I loved it and it gave me so much hope for my daughter's future; Keep sharing-the world needs to laugh more; Very, very good, eye opening and relevant; This is great information for anyone that does not live with autism, especially regular education teachers; Brent is amazing! 

Autism Society of Wisconsin Conference Attendee Feedback